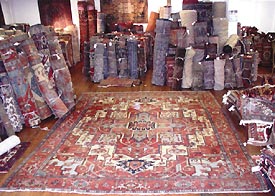 Paul Aliloo has been selling Oriental rugs since 1984 to customers in Virginia, Maryland, Washington D.C. and throughout the U.S. Our rugs, which are featured in Architectural Digest, meet the highest standards of quality and workmanship and please the most discriminating taste. Our fine silk and wool rugs adorn many prestigious homes, country clubs, banks and corporations.
Aliloo Oriental Rug Corporation is a direct importer of oriental rugs from every rug weaving country in the world. We inventory all sizes, quality, designs and colors. We have many one-of-a-kind exotics that complement our collection of Serapes, Herezes, Farahans, Sarouks, Tabrizes, Mahals, Kahsans, and Kermans. We offer you the rarest, largest, and best inventory of oriental rugs in the Washington DC metropolitan area.
We are happy to give you personalized service and we dedicate all the time and expertise needed to make your investment the best it can be. We're accustomed to working closely with interior designers to help create exactly the look you want to achieve.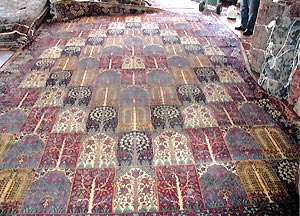 Antique and semi-antique Persian rugs are our forte. Persia (known as Iran since 1934) has been the source of a wide variety of rug designs and a full range of qualities. It is likely that the majority of Oriental rugs sold worldwide from the end of World War I through the 1950's came from this region. So many rugs have come from Iran for so long that "Persian rug" and "Oriental rug" are now synonymous terms to many people. To the expert, though, there are distinctive differences. Oriental rugs of Persian design may come from India, Pakistan, China, or other parts of the region. True Persian rugs come only from Iran.

Savonnerie carpets (below center) were made in 17th century France and originally intended for the royal apartments in the Palais du Louvre. Louis XIV transferred all carpets in the series to Versailles. The Oushak pictured above right is a rare large carpet made over one hundred years ago in western Turkey and is in particular demand today within the most discriminating decorative environments.

To protect your fine quality rug, make sure your subfloor or floor has been sealed properly. Concrete is one of the most versatile construction materials in the world. Hidden within, visible at only 5,000x magnification, are pores, capillaries and micro-cracks. Exposed to humidity or changing temperatures, is where harmful substances can wreak havoc on your rug. Oil resistant concrete sealer formulas are driven by innovative nanotechnology. The nano-sized particles migrate deep into the concrete... providing an unparalleled depth of penetration, enhancing the performance. Once treated, the surface tension of the concrete is changed... producing a protective barrier that delivers unrivaled protection for years to come.